Everything you need to know about the new SAT
It's shorter than the printed SAT, but is it easier? Not necessarily! We've studied the changes and have tailored our prep to help you succeed.
What's Staying the Same?
Still scored on a 1600 scale
Still administered in schools or test centers with a proctor present (not at home), test centers will continue to be open to all students, not just those enrolled in that school
Still supporting all students, including those who need accommodations on test day
Students can get their scores in days instead of weeks
What's Changing?
Test is taken on a laptop or tablet
Shorter test, about 2 hours instead of 3
Shorter reading passages instead of a few long texts
Calculator allowed on the entire math section; there's a calculator built right into the digital testing application
Test will be adaptive, meaning the questions will get easier or harder as students continue the test: Module 2 in the Reading and Writing section will be adjusted based on the performance of the student on Module 1
Digital SAT Structure
Section 1: Reading and Writing, 32 minutes, 27 questions
Section 2: Reading and Writing, 32 minutes, 27 questions
10-minute break
Section 3: Math, 35 minutes, 22 questions
Section 4: Math, 35 minutes, 22 questions
New online features:
You can highlight and take notes during the test
You can skip questions and return to them; before submitting you will see an overview of the questions to see if you've filled them all out
You can also flag a question as a reminder to go back to it if you weren't 100% sure about it
You can take online practice tests and immediately review your answers; there is an explanation for the correct answer
Reading & Writing Modules: What to Expect
No passages longer than two paragraphs, most of them are no longer than one paragraph ☺
Only one question about each passage/excerpt
Questions about a range of topics including literature, social studies, science, and history
New – poetry analysis questions
New – passage analysis which presents research notes/bullet points and asks questions about them
Grammar questions are slightly different than the printed SAT, for example, there is no "No change" option or "Should the author consider deleting/adding this sentence?"
Data Analysis
This section contains quite a few questions with charts and graphs. The questions are similar to the printed SAT.
Grammar
Questions about punctuation
Questions about style – "most logical transition," for instance
Trickier grammar question – short blanks with long answer choices
Tricky time suckers – answer choices are all long and only vary slightly
Passage Analysis/Reading Comprehension: Literature, Social Studies, History, etc.
Main purpose/comprehension questions
Questions about the underlined portion
Passage analysis questions – literature
Tricky question – which of the following undermines the hypothesis?
Trickier analysis – social studies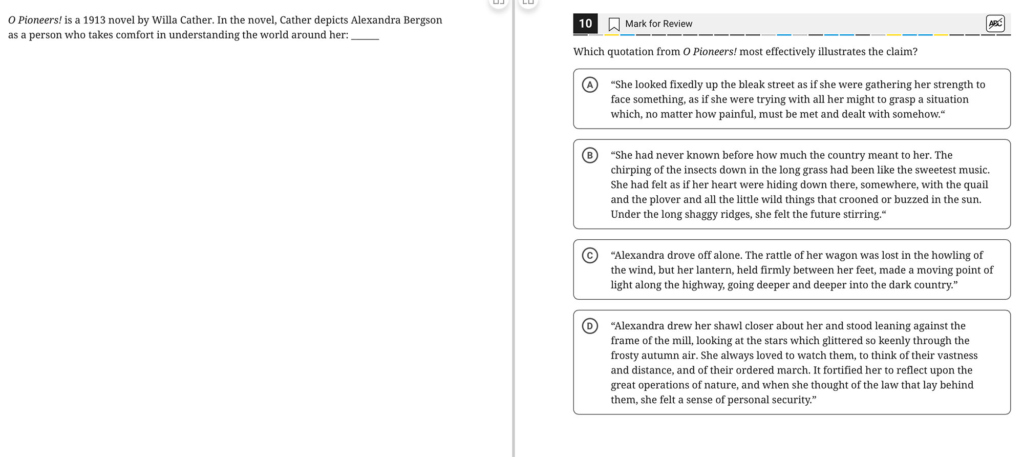 New: Poetry Analysis
Questions about the main purpose. Some of the questions about poetry have answers with quotations from the author.

New: Research Notes
Note-Taking questions, based on bullet notes about a wide range of topics.
Range in difficulty
Variety of topics: art to science to history

Math Modules: What to Expect
Most of the questions are multiple-choice; a few are short answers
You have a built-in calculator and reference sheet that you can open and close whenever you want
Questions are pretty similar to the printed SAT math test
Like in the Reading and Writing modules, you can mark a question for review, but you can also click on the ABC button to help you eliminate wrong answers
Sample math questions: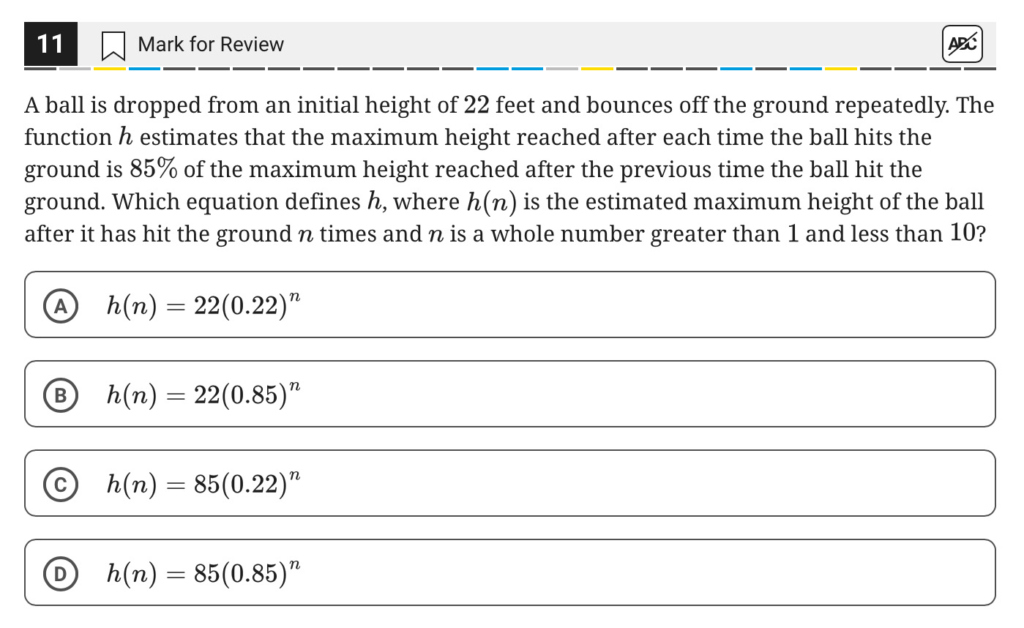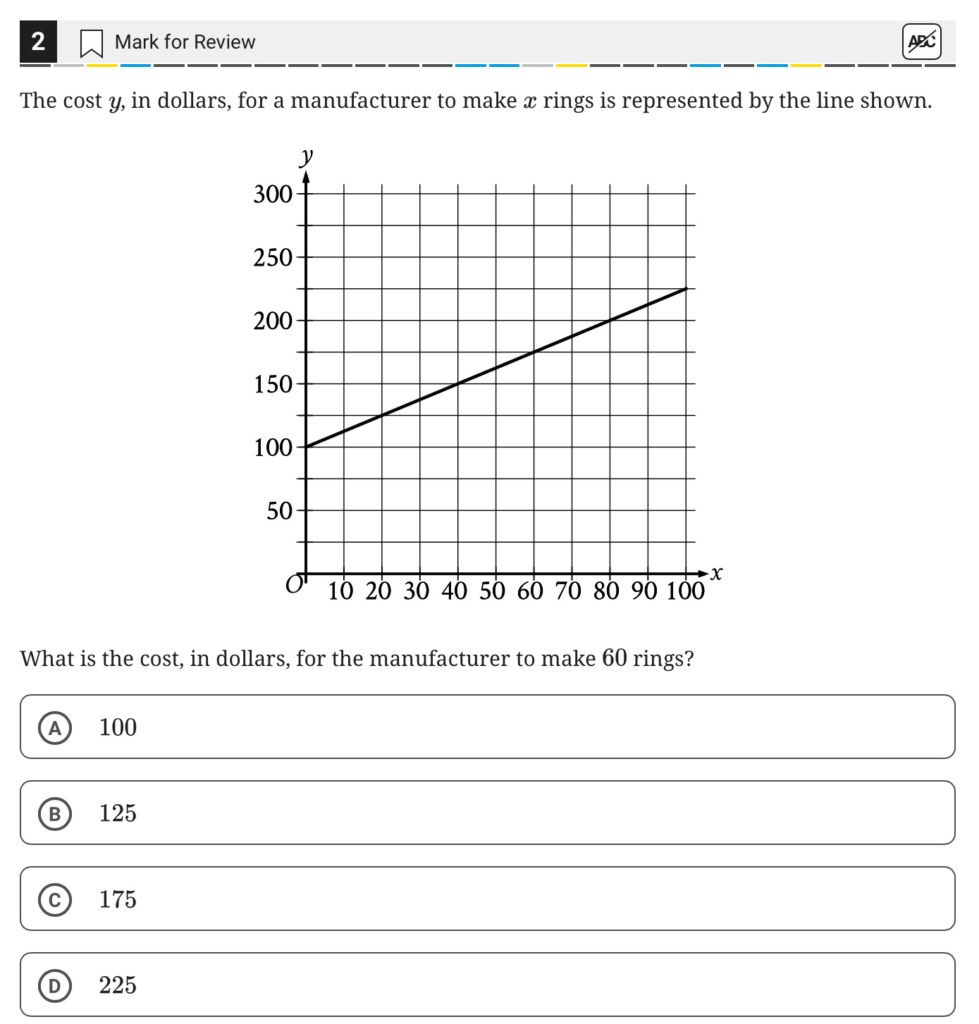 Source: College Board
Get a Competitive Edge for the New SAT
Given these changes, the pacing and strategies needed for taking the new SAT will certainly be different, making it important to prepare with the most up-to-date practice material and guidance. We have been actively researching and preparing for this change to bring our students the best in test prep! Complete the form below to register for a practice test!
Register for a Practice Test
When it comes to doing well on the SAT and ACT, practice makes more perfect. Register today!